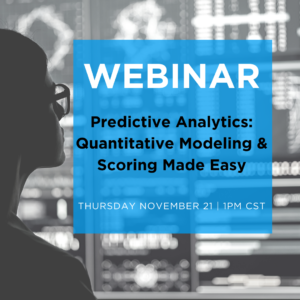 On-Demand: Predictive Analytics Made Easy
Predictive analytics is one of the hot topics in Business Intelligence. New technologies are enabling business analysts to use predictive modeling tools without needing to have a background in statistics or math. With these new tools most business analysts can more completely understand their data and use that understanding to make better decisions every day.
In fact, we believe this should be a core capability that your team can perform on their own – not something that is done by outside consultants who will never know your data and operation as well as you do.
In this session we will demonstrate how to use predictive analytics to first create engagement /attachment scores in advancement, and then secondly at-risk student scores that can be used to flag incoming "at risk" students. This will be an interactive session with a Q&A discussion at the end.
Complete the form to access the on-demand webinar.